2019 Women's Celebration Breakfast
Canberra
Australia @ (AU)
Tel 2019-11-29
Categoria Events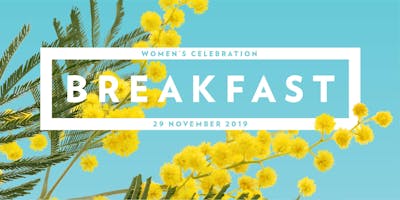 LET'S SHAKE THINGS UP  We love supporting women and celebrating the University of Canberra community who are changing the world and shaking things up - one step at a time.   Please join us for our fourth annual Women's Breakfast with your MC for the morning, the incredible Virginia Haussegger AM, as we hear from inspiring speakers including Ms Kate Munari and Professor Sudha Rao.  Enjoy a delicious breakfast at the National Portrait Galery, network the room and throw your support behind a truly inspiring cause; the UC Cancer Research Fund. This event has sold out every year, so don't wait too long to secure those tickets.   KEY DETAILS When: Friday 29 November, 7:15 - 9:15AM (7:30 start) Where: Gordon Darling Hall, the National Portrait Gallery              King Edwards Terrace, Parkes Dress: Business Casual with a pop of floral  Cost: $95 per person + booking fee          $900 for table of ten + booking fee  100% of the proceeds will go to the UC Cancer Research Fund  Tickets available until Sunday 17 November or until sold out (250 capacity).  KEY SPEAKERS Virginia Haussegger AM Virginia is Director of the 50/50 by 2030 Foundation at the University of Canberra's Institute for Governance and Policy Analysis (IGPA), and Chief Editor of the gender equity blog BroadAgenda.




She is also the 2019 Australian of the Year. Virginia is a passionate gender equity advocate and communications specialist. She is an award-winning television journalist, writer and commentator, whose extensive media career spans more than 25 years. Professor Sudha Rao Professor Rao has extensive experience in transcriptional biology and genomic technologies that spans both pharmaceutical and academic settings. The primary focus of her research group has been to unravel complex epigenetic signatures in transcription programs in the context of the immune system, as well as to understand the deregulatory operating in cancer settings. Kate Munari Kate joined the Royal Australian Navy at the age of 18, through the Australian Defence Force Academy and completed a Bachelor of Science degree.


Kate is the only female Navy helicopter pilot to fly in Afghanistan. Kate served in Afghanistan three times as part of Commando Helicopter Force, flying day and night, in all weather conditions as aircraft captain and formation commander. She has led teams in some of the toughest conditions any workplace can present. University of Canberra Cancer Research The Melanie Swan Memorial Translational Centre at the University of Canberra is leading the way in research into cancer treatment in the ACT. Professor Sudha Rao and her team are working to treat the occurence and spread of metastatic cancer - and they are on the cusp of a major breakthrough.  Professor Rao and her team are revolutionising cancer treatments by rethinking the way cancer is detected, tracked and treated.  Metastatic cancer is an aggressive, deadly secondary stage cancer that spreads throughout the body.


Currently, there is no cure. There are minimal treatment options for metastatic cancers such as melanoma, brain, lung, pancreatic, kidney and ovarian cancers. Professor Rao's team are increasing the options and survival rates for people with metastatic cancer.  The research and treatment breakthroughs at the University of Canberra will help change the way the world approaches cancer treatments.  Read more about the cancer research on our website.