Essendon
Australia @ (AU)
Tel 2019-02-21
Categoria Events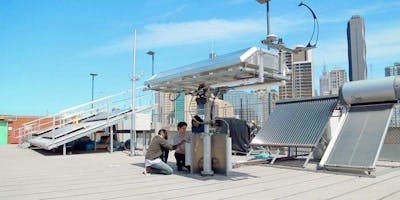 You are invited to attend the inaugural
[email protected]
workshop. This event will allow you to explore the opportunities available at RMIT University to help solve challenges currently being faced by local and global consumers and institutions relating to the demand and supply of ENERGY.  An energy revolution is currently taking place in our lives. Demand for energy is rapidly increasing due to population growth and global warming. The supply profile is changing as a result of the shutdown of coal fired power plants and the increasing capacity of installed intermittent renewables. This has led not only to unreliable power supply, but unstable prices to residential, commercial and industrial consumers. Federal, state and local government understand there is a need to act now, especially with the necessity to be carbon neutral in the next 30 years, and are investing heavily in R&D to address these challenges.
Complementing this, RMIT University has considerable expertise in what can be broadly defined as energy research and associated skills, such as: Energy policy, law and energy security Social change Smart Grids/Distribution/Converters Built Environment energy supply and demand Renewable generation through solar PV, solar thermal, wind, biomass etc Hydrogen generation and usage Transport power Energy Efficiency Energy storage Data and analytics During the workshop, numerous funding opportunities and potential collaborations will be considered, including: The Victorian Government initiative "C4NET" that RMIT has partnered with – new CEO James Seymour will speak The current CRC bid "RACE for 2030" that RMIT is considering being involved in The concept of an RMIT Energy Centre to give RMIT a presence in the sector and to help   co-ordinate and facilitate activities efficiently.
 For more information, contact Prof. Gary Rosengarten (
[email protected]
) and Ms Rebecca Shepherd (
[email protected]
). We look forward to seeing you there.