Bayswater
Australia @ (AU)
Tel 2019-05-19
Categoria Events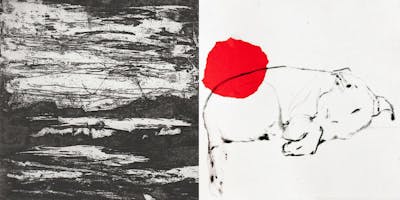 * EASTER SPECIAL * Register to attend by Sunday 21 April to receive a $15 discount. This will make a lovely Easter gift for a friend or family member, or treat yourself. ETCHING & CHINE COLLÉ   Whether you are new to printmaking or are seeking to expand your skills, Print Lab Australia offers a range of workshops that will cater for your needs. Etching is an intaglio printmaking process, where lines are drawn through a ground applied to the surface of a plate, exposing the metal beneath. The plate is immersed in acid and the exposed metal is 'bitten', producing crisp, incised lines that can be printed. Learn about the traditional art of etching, and make a limited edition of prints working with A5 aluminium plates. Using a sharp engraving tool, you will learn to incise your plates with hand-drawn lines to create linear and detailed artwork.




We will also use cross-hatching techniques to convey tonal variation. In this workshop we will teach you how to prepare your plate, draw using an etching needle, and use copper sulphate and kitchen salt to etch your image. Working with copper sulphate is more environmentally friendly compared to traditional etching techniques. Spanish printmaker, Francisco Goya used etching to create evocative and painterly effects in his prints; the technique was favored by printmaking masters such as Rembrandt, and has been explored to great effect by more contemporary artists Dinos and Jake Chapman, David Shrigley, Paul Klee, David Hockney and Michael Landy. Chine Collé is a delicate technique that enables you to add tone and colour variation to your etchings. Using an adhesive and the pressure of the printing press, you will layer fine, coloured tissues between printmaking paper and your etching plate, resulting in unique prints for your edition.


This 3 hour workshop is suitable for beginners and intermediate as well as advanced printmakers, and you will be introduced to the principles of Etching and Chine Collé. We will be working with high quality tools and materials*, including aluminum, etching needles, grounds and coloured tissue paper. You may wish to bring your own supply of tissues for Chine Collé if you have a collection and would like to use them. *All materials are supplied, with additional specialist printmaking paper and aluminum plates available for sale as required. We are only able to accept cash at this time, so please bring small change with you. Items are priced between $3-$10. Light snacks and refreshments will be supplied. Register for two classes (Etching & Chine Collé and Paper Lithography) in one day and receive a $25 discount*.


These two processes compliment each other beautifully - you can add lithographic elements to your drypoint prints created in the morning workshop. *This price excludes the Easter Special. You will be expertly guided through the process by PLA directors, Monika Lukowska and Melanie McKee. Monika is an artist from Poland currently based in Perth. She obtained her MA from the E. Geppert Academy of Fine Arts and Design in Wroclaw, Poland and MFA from San Francisco Art Institute, USA. Monika's artworks have been widely exhibited internationally in China, Japan, Turkey, Sweden and Germany amongst others, and she is currently pursuing her PhD in Fine Arts at Curtin University in Perth. Her main interest encompasses place and the ways in which we can discover our surroundings through creative practice.


Melanie is a printmaker and art teacher, dividing her time between the studio and Curtin University where she teaches art history, photography and printmaking. She has exhibited both locally and internationally, notably in group exhibitions at the China Academy of Art in Hangzhou China (2015), and a solo exhibition at Tuner Galleries in Perth (2017). Melanie has been awarded several grants in order to carry out her research and creative practice. She has a PhD in Fine Art, and her interests centre on how memory of place can be explored through printmaking practice. *Please note we are unable to refund tickets, but if something unavoidable comes up we are happy for you to gift your spot to a friend who can attend in your place.