Intro to Flash Speedlights (August 2019)
Bayswater
Australia @ (AU)
Tel 2019-08-24
Categoria Events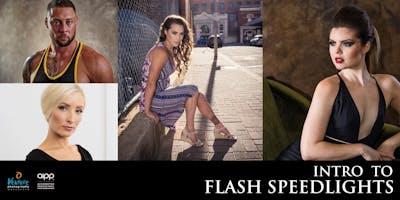 Level: IntermediateInstructor: Seng MahLocation: Team Digital (5 Coolgardie Terrace, East Perth)Maximum participants: 10 Proudly supported by Team Digital Are you struggling to understand how to use your flash speedlight? Do you get frustrated trying to get the right flash exposure or the right look when using your speedlight? Then join us and uncover the secrets of your flash speedlight. In this mini-workshop, you'll learn how to take control of your flash speedlight and use it to add impact and intensity to your photographs. This workshop will give you a solid understanding about the way your flash works, the bits and pieces attached to it and how you can drive your flash to get the right flash exposure. You'll learn about balancing flash and ambient exposure, how to use bounce flash and bounce surfaces effectively, how to work flash exposures compensation and flash manual zoom, and how to get your flash working when shooting in full sun using high speed sync.




Throughout this workshop, you'll learn by shooting in real world situations - both indoors and outdoors. It's the best way to begin to master your flash speedlight. WHAT YOU WILL LEARN Using your flash in its e-TTL/i-TTL modes. Flash exposure - and how to control flash exposure. Front (first-curtain) vs Rear (second-curtain) flash. Flash sync speed and using high speed sync on your speedlight. Using the flash power zoom effectively. Using your flash as key light vs fill light. Using bounce flash. Using flash modifiers. Balancing ambient and flash exposures for outdoor shooting. WHAT YOU WILL NEED Your interchangeable lens camera (DSLR or mirrorless). A flash speedlight capable of both TTL (Through The Lens) flash metering and HSS (High Speed Sync). These are two primary functions covered in this workshop.


Check your flash speedlight's specifications to make sure that it has both TTL Flash and High Speed Sync (HSS). This mini-workshop is unsuitable for basic manual-only flash with no High Speed Sync. Lens/es that cover a focal length range from 24mm to 120mm. Notebook and pen (a PDF copy of the presentation will be made available to you after this mini-workshop). Refund requests: Please note that effective 1 July 2019, Eventbrite will no longer refund the booking fee (which is included in the price of this event). If you request a refund, your money will be refunded less the Eventbrite booking fee -- which is 2.6% of the price of the event). ABOUT SENG MAH Seng Mah is the owner of Venture Photography Workshops and Tours, which he has been running since 2009 in Fremantle.


He's a photographer, traveller, explorer and educator who has been teaching photography professionally for 10 years. His photographs have won awards and been exhibited in Australia and Internationally. Seng is the 2018 WA Professional Documentary Photographer of the Year, and the WA Professional Travel Photographer of the Year finalist in 2017, 2018 and 2019. He's an experienced photographic judge and is a committee member of the WA Photographic Judges Association.