Maths Extension 2 - FREE Trial Revision Lecture
Marrickville
Australia @ (AU)
Tel 2019-07-08
Categoria Events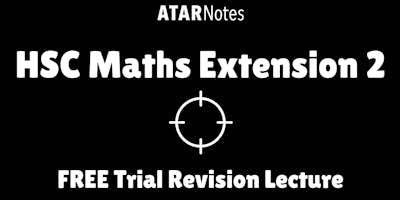 THIS LECTURE WILL: Give you a competitive edge for the last term of the HSC Offer tips and tricks from someone who scored a 97 in 4U Math Break down the most important things to know for your Trial exams And the best bit? It is totally free. Maths Extension 2. It is the hardest and the most competitive high school course you can take in the country. The concepts are complex, the questions brutal - If the HSC was a video game then Maths Extension 2 would be like facing the final boss on Legendary mode. To get through the year, with any mark, is a significant accomplishment.  Our lecturer, Rui, did more than that. He didn't just get through, he got through with an incomprehensible score of 97 in Extension 2 Maths, and an ATAR of 98.60. He's currently studying a Bachelor of Science (Advanced Mathematics) and a Bachelor of Computer Science; Rui has mathematical talent in his soul.




This will be a lecture like no other. Rui won't just teach you content, though he'll do that damn well. He'll also give you his insights, his experience, and his tips and tricks to success in this killer of a subject. You'll walk away with new confidence and new understanding that will help you blitz your Trial exams, and your HSC. After the lecture, you'll have the option to explore Australia's most innovative campus, located in the heart of Sydney. Experienced UTS Student Ambassadors will lead you through the Broadway and Haymarket precincts, including a stop at the iconic Dr Chau Chak Building and the 220 seat multi-disciplinary Super Lab. They can help you answer your questions about courses, university life and all the exciting opportunities available to students at UTS.


Our July lectures are free, and as you can imagine, they always fill ridiculously quickly. Be quick – Reserve your seat now and tell your friends to do the same.