Neighbourly Ride - Carlton North
Melbourne
Australia @ (AU)
Tel 2019-10-20
Categoria Events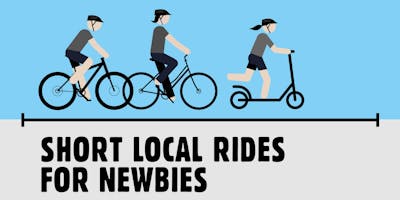 Join our Neighbourly rides for Newbies of any age for a fun and social ride. We ride for 40 minutes at a leisurely pace to help build confidence on your bike. We explore the local parks, bike paths using safe routes. ARE YOU A NEWBIE RIDER? ●  Just bought a bike and need an incentive to start riding?●  Looking for places to ride locally?●  Want to discover where to ride ●  Meet other newbies over coffee after the ride●  Anyone is welcome - Kids, adults, friends and families●  Supportive & confidence building rides KIDS Children under 16 years will need to be accompanied by a parent or guardianFor safety reasons can you please add each child to the number of tickets as we limit the ride to strictly 20 registered riders. DON'T HAVE A BIKE?Velo cycles has limited hire bikes available to registered Neighbourly Riders at 50% off - $20 for the day, call 9381 0088 or call in.
Speak to one of their friendly staff to reserve your bike before the start of the ride (on the day you will need to provide photo ID).NOTE please arrive at least 30 minutes before the start to ensure you have the right size bike Opening hours are from Monday to Friday 8:00am - 6:30pm  Saturday & Sunday 9:00am - 4:00pm and most Public Holidays 10am - 4pmhttp://www.velocycles.com.auTRY OUT AN E-BIKE?E-bikes available to experience as well. Call Velo Electric on 8488 8929 to arrange prior COSTFree - no ongoing fees or charges MEETING POINTIn the grass area between Velo Cycles on Nicholson St and Park St, North Carlton CAR PARKINGIf you are driving to the meeting point there is plenty of parking in Nicholson St BRING ●  Plenty of smiles●  Your bike (in good working order with a bell)●  Helmet (mandatory and it's the law)●  Lights (front & rear are advisable for added visibility)●  Water bottle●  Puncture repair kit (Tube & pump) available from Velo Cycles ●  Sun tan cream & weather protective clothing in case it rains or gets cold PREPARATION ●  Pump up the tyres●  Oil the chain●  Take your bike for a short ride to make sure everything is working well ON THE DAY ●  Arrive 15 minutes early to meet your fellow riders●  Be ready to leave at 10:00am CLOTHINGComfortable clothing and shoes (runners, recreational shoes etc) and a means to avoid long pants being caught in the chain COFFEEJoin us for a coffee after the ride at Park Street Cafe (Formerly Green Park Cafe) WEATHER & UPDATESIt's raining at 8:00am or above 24º the ride will be cancelled however the show goes on,  join us for a coffee instead.
WHAT OUR NEWBIES SAY Check out of video's featuring many Neighbourly Riders and their experiences:https://neighbourlyride.com/community ADULTS Each adult (18yo +) will be required to register individually and accept our Terms of Service and waiver. CHILDREN The number of children (6 - 17yo) participating will need to be added by their parent/guardian when registering, ie one adult bringing 2 x children will need to order 3 x tickets from the dropdown box. When you arrive at the Neighbourly Ride meeting point (between 9:40am - 9:55am)  we will require the first name & last name of each child, this will negate the need for a separate Eventbrite account for every child. BY REGISTERING YOU AGREE TO OUR TERMS OF SERVICEBy registering youI have read, understand and agree to the Terms of Service and waiverhttps://neighbourlyride.com/terms-of-service OTHER INFOOur Neighbourly Rides are insured and our Ride Leaaders have Working with children accrediatationWe offer the first ride for free, to make Neighbourly Ride sustainable, we charge a nominal $5 fee for each ride there after.
 We only receive $3:39 after the $1.16 Eventbrite fee + $0.46 GST CANCELLATIONIf we cancel the ride you wiil be notified by email at 8:00am on the day of the ride (Sunday).You can cancel anytime up to 8:00am on the day before (Saturday) of the ride, this helps to free up a space if you cannot make it. CONTACTYour Neighbourly Ride Leader is Andrew Email:  
[email protected]
- Mobile: 0419 948683www.neighbourlyride.com OUR LOCAL BUSINESS SUPPORTERS