Newcastle
Australia @ (AU)
Tel 2019-06-30
Categoria Events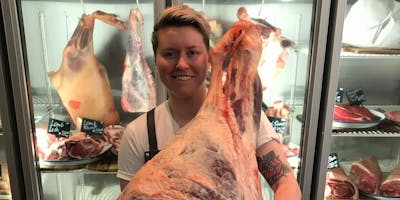 Sit down and strap in for the final round of Luci Kington's "Eat Less Meat" series.   Luci dazzled our customers in her last class with her knowledge, self effacing nature and mad skills with a knife. As a trained chef and practising butcher in the Big Smoke she is both incredibly interesting to listen to and interested in what she does. This makes for a killer combo when it comes to a class like this. In this 3 hour demonstration Luci will take you right from the Nose to the tip of the Tail with a whole beast.  ...Mary had one - and so do we.   Watch as Luci breaks down the beast whilst highlighting significant cuts and what to do with them. She'll show you how to cook them and why. You will taste as we go and learn so much - Luci's mantra is to "eat less meat" by eating more resourcefully and sustainably.




Let her show you how, she's the real deal. With so much knowledge and respect in the industry this is a class for meat lovers not to be missed. Go on, you know you want it ba-a-aaa-aaa-ad. If you would like to redeem an Essential Ingredient Gift Card to attend this event, please contact us directly and we would be happy to enrol you over the phone on (02) 4926 1991, or visit us in-store. To Do List Arrive 10 minutes prior to class as you will need to fill out a liability waiver, Wear closed toe shoes (we love your toes where they are), Pull long hair back off your face ("waiter, there's a hair in my soup"), Save the environment and bring some containers in the event of leftovers. No refunds/transfers/credits on cancellations, regardless of illness or a change in personal circumstance.


For a complete look at the Terms & Conditions of The Cooking School at The Essential Ingredient Newcastle, visit our website.