ONLINE doin' dōTERRA - BrōTERRA, loving the men in our lives
Bayswater
Australia @ (AU)
Tel 2019-08-29
Categoria Events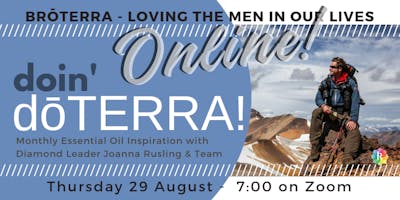 brōTERRA, loving the men in our lives Come learn how men can also use essential oils and dōTERRA products, from boys to grandfathers, this class will give you all sorts of practical tips for every day natural solutions. PLEASE REGISTER if you would like to receive a link to the recording and a PDF of recipes for our brōTERRAs. Events like this one, when hosted by Joanna Rusling are filled with valuable tidbits of information you might not get anywhere else. Joanna has an extensive background as a medical scientist, in diagnostic pathology and in medical microbiology research. Joanna also has extensive experience with gut health through Biomedical research and Functional Nutrition with specialist diets, and has restored her family's health (and many other people's gut health) with nutrition and some of our fantastic dōTERRA Products.




Joanna's doin' dōTERRA Events are always so much more informative than we expect them to be (have a notepad nearby. ). RSVP today to secure your place, tickets are FREE and this event is open to everyone. Follow me on Facebook to find out when there are new events posted: https://www.facebook.com/OilsInTheMix/ or bookmark this page: https://joannarusling.com/events Looking forward to meeting you. Notes: Please ensure you download Zoom for your device by going to: https://www.zoom.us/download we suggest you do so a day or so prior to the event. A few minutes before the event, go to this link:https://zoom.us/j/4528567759To find out your timezone, please click on the link below and enter your city in the 2nd box. https://www.timeanddate.com/worldclock/converter.html?iso=20190827T110000&p1=196 *********************************************************************************************** Are you open to natural remedies? Natural solutions are amazing – you get powerful results without the side effects of medications.


Have you ever heard of essential oils? Would you like to learn more about them? This is a monthly class to empower you with knowledge about dōTERRA essential oils, to help you and your family have wellness choices.  This will be one of the best things you could ever do for yourself.   My life has changed forever from someone sharing theses gifts of the earth with me.If you are a leader who is not in Perth but have local people interested in dōTERRA Essential Oils, or maybe they just want education, you are welcome to send them to this event, they will be well looked after. If they are not yet enrolled you don't have to worry, I always make sure to ask them who sent them to the event so you will be able to enroll them yourself.