Personal Brand Mastery Workshop
Newcastle
Australia @ (AU)
Tel 2019-04-15
Categoria Events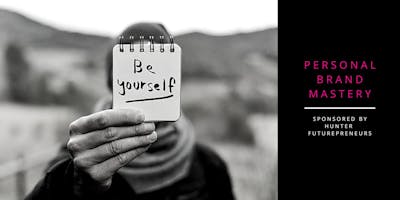 Today we live in an age of shortened attention span, more competition and the threat of being undercut on price. You need to do things differently and one of the most important things is developing a Personal Brand.  Personal Brand is a little misunderstood and sometimes is perceived as being ego-centric. So, let's set the record straight this is not about ego. There is a real difference between being cocky and being confident. Having confidence in being able to articulate your unique qualities and telling others how you add value is not cocky. Question... Are you clear on your unique differences? Do you know what separates you from your competitors? Answer... That's easy...it's YOU. The hard part for most people is uncovering those differences. Why is it important? The truth is today people choose people over expertise.




You need to know how to spruik yourself better. Ultimately you want to be remembered and attract your ideal customers. Workshop includes: Personal Brand Assessment (Valued at $70)This workshop is run by Brand Specialist Janelle Gerrard of Stand Out Brand. She will assist you to craft your unique brand value statement and provide support and guidance throughout the workshop. Hunter Futurepreneurs have secured a very special offer of just $115+GST This workshop is valued at $297+GST. Incredible value… Don't miss out. It is a great business investment.    Previous attendees comments…."I was amazed at how accurately Janelle was able to profile my strengthsRachael Laybutt - University of Newcastle "It was helpful not only in business but also in personal development".Karen Borchard - Cocoon Therapy "This was one of the most helpful and insightful business workshops I have ever attended".


Kerrie Hourigan - Podcast & Video Producer "At Janelle's personal brand workshop I discovered what makes me stand out in my industry".Sally Considine - Progressive Financial Planners Be Quick to secure your place. This event is proudly sponsored & subsidised by the Hunter Futurepreneurs.