Perth: Yoga for Stress and Anxiety Workshop
Bayswater
Australia @ (AU)
Tel 2019-06-01
Categoria Events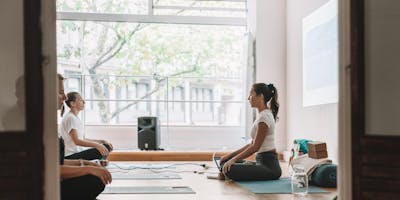 Feeling stressed, anxious or overwhelmed? Chronic stress and Anxiety are conditions that afflict more of us than ever before. This simple, easeful 2 hour yoga for stress, anxiety and healing workshop with Emma Ceolin from Yogaventures will take you on a journey to soften back into yourself and explore yoga as a powerful tool to calm the nervous system. Expect science-based lectures learning about the nervous system, yin yoga, meditation, pranayama (breathing), mantra (repeating significant phrases), aromatherapy and getting to know your stress and anxiety to make it eminently more manageable. You'll also be gifted with the Yoga for Anxiety eBook so you can practice at home. Take a deep, sweet breath back, feel your stress levels reduce and notice a refreshing feeling of wellbeing and inner peace.
All levels welcome. WHAT TO EXPECT + Theory — Learn about the biological, social, physiological and psychological aspects of stress and anxiety and how yoga can help to calm the nervous system with a powerpoint slide lecture. All while sipping on your warm herbal tea, nibbling on delicious treats and trying soothing essential oils. + Yoga — Practice simple, easeful yoga poses, tools and let go techniques to help interrupt anxious thought patterns and alleviate anxiety when faced with challenges in day to day life. Expect gentle yin and restorative postures accessible to all levels of experience.  + Connection — You are never alone. No matter how isolated stress and anxiety can make us feel sometimes. In this workshop, you'll be reminded of this and have the opportunity to connect and share with others moving through similar experiences.
Expect a safe, non-judgemental, supportive space. + Awareness — Getting to know and making friends with your stress and anxiety makes it eminently more manageable. Expect to cultivate a deeper awareness of and around your personal anxiety triggers, symptoms, remedies and resources with reflection and journaling. TESTIMONIALS "I recently attended one of the Yoga for Anxiety workshops and I can highly recommend this for anyone who has an interest in learning tools to create a calm environment, whether you experience mild levels of stress or extreme anxiety. Emma shared her own story with a room filled with strangers, making it a comfortable and safe space for others to share. A beautiful soul, I look forward to sharing in Emma's presence again in the future." — Jo Flynn "I recently attended Emma's yoga workshop in Paris and gained so much from the experience.
Emma is a true inspiration and it's impossible not to be swept up in her passion for yoga. She also knows her subject inside out, so you know you're in safe hands, and she's a lovely person too. As a result of attending the workshop, I now intend to take up yoga properly." — Caroline Harrap "Emma's workshop exceeded all my expectations, from sharing her story purposefully, cultivating a safe environment, sharing so much mental health knowledge that blew my mind and gave me new tools to take home including specific poses to do on the mat and breathing exercises. I walked in nervous and anxious and by the end of the workshop I felt deeply relaxed and felt great joy and appreciation to my self for attending and Emma for a brilliant and beautiful workshop." — Hana Begovic Read more reviews: https://www.facebook.com/pg/yogaventures/reviews/ MEET THE TEACHER Emma Ceolin is an international yoga teacher (ERYT®200, RYT®500, RPYT®, RCYT®, YACEP®, RYS®200, IAYT®) and the founder of Yogaventures and The Anxiety Effect.
With experience teaching sold-out workshops, retreats and teacher training across Australia, Asia, Europe andUnited States, Emma shares her journey growing up with anxiety, overcoming depression, the stress that comes with this fast-paced modern lifestyle and how she manages day-to-day with practical and accessible yoga tools and techniques. Learn more at www.emmaceolin.com/about MORE INFO For more info, FAQ, Refund Policy or Terms and Conditions visit: https://www.yogaventures.co/yoga-for-stress-anxiety-workshop CONTACT Need to get in touch? We'd love to hear from you. Please email 
[email protected]