Procura ANZ SHARE Conference 2018
Sydney
Australia @ (AU)
Tel 2018-12-05
Categoria Events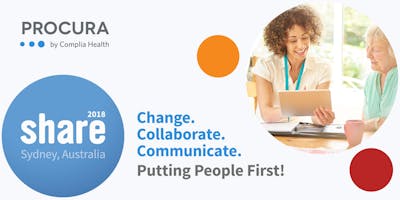 This year, the theme for our Share annual user conference is Change, Collaborate, Communicate; We will look to share some of the more advanced client deployments and extensions which will help you derive further return on your Procura investment and empower your workforce for positive change in care delivery. Collaboration is a word that is often used but not often enough put into practice. We have made a key change to the conference program format with the inclusion of half-day practical, technical workshops focusing on how to better utilise the Procura systems in a different solution including Residential Management, Community, Disability and Clinical Care. We believe you will find the conference stimulating and informative. If you have any other questions or concerns relating to the conference, we invite you to reach out to your account managers and they will be happy to help you.
Putting people first We aim to connect our staff, our latest generation software, our strategic partners and where appropriate, our clients, to each other, with the ambition to share best-practice deployment strategies to simplify and improve residential, clinical, community and disability management within facilities. We will be exploring opportunities to fully leverage the Procura product ecosystem. Integrations with best of breed third party software solutions that include Medication Management, Wound Care Management, Data Management and Analytics to ensure your organisation is empowering your workforce for positive change and generating even greater efficiencies. Register now. Gala Event Procura will be hosting a night of celebration, good food and laughter with the Procura and Complia Health Team and our partners, for all registered SHARE attendees.
Anh Do –  Live at the Procura SHARE Gala Event. Anh Do will be performing live at the Gala event. Corporate MC and Comedian, Anh Do has a witty, clean and friendly stage manner, making him one of Australia's most popular comedians. As seen on Spicks & Specks, Thank God You're Here, Rove and the Footy Show. SHARE attendees are welcome to bring in their guests and acquaintances (subject to extra seat costs and availability). Keynote Speakers Chris Junker CEO, Complia Health Scott Overhill Chief Strategy Officer, Complia Health Garry Neale Managing Director, Procura Australia Greg Garratt CEO, Medi-Map James Price Managing Director, Mirus Australia Guest Speakers Julia Russell Director, Enliven New Zealand Patrick Lilwall Managing Director, INPLEX Management Services Pty Ltd Gabe Rijpma Senior Director, Health and Social Services, Microsoft Asia Shayne Armstead Systems Manager, Corporate Services, Uniting AgeWell Event Details   Procura ANZ SHARE Conference 2018 Wednesday, 5 December 2018 9:00AM to 5:00PM Thursday, 6 December 2018 9:00AM to 3:30PM   Outlook Calendar   Google Calendar   iCal Calendar   VENUE View by Sydney 13 Hickson Road, Walsh Bay NSW 2000 View in Google Maps   The Procura ANZ SHARE Conference 2018 is an event for Procura ANZ customers only.
If you're a non-Procura customer and wishes to attend this event, please email us at
[email protected]