Rumi Returning - Encore Screening Due To Popular Demand - Mon 18th Feb
Essendon
Australia @ (AU)
Tel 2019-02-18
Categoria Events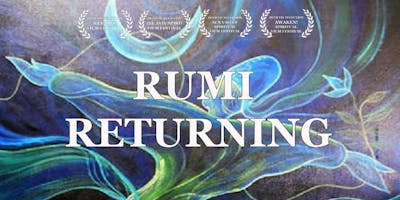 Although he was born more than 800 years ago, Rumi's story is divinely relevant to us today. His works continue to resonate and inspire people all over the world. Across time, place and culture, Rumi's poems articulate what it feels like to be alive, and help us understand our own search for love and the ecstatic in the coil of our daily lives. In the course of his life, Rumi left us a literary legacy that has earned him the title "The Shakespeare of love" and "the greatest mystical poet of all time". Rumi Returning explores how the work of the so-called "Sultan of Lovers" provoked such a devoted following. Many believe Rumi's universal, tolerant mysticism could answer to the clash of civilizations facing humanity today. Shot mostly in Turkey, where the great mystic lived and taught 800 years ago, RUMI RETURNING features Sufi music, high-definition visuals of the Whirling Dervishes that Rumi inspired, and the medieval architectural masterpieces of the region. With commentary by experts including the great Rumi interpreter Coleman Barks, Dr.
Akbar Ahmed, mystical scholar Andrew Harvey, this inspiring film asks the question: "Does an 800 year old mystic hold the secret to world peace?" ~ Join us for this wondrous evening of film, live music, chocolate tasting and a delicious vegan gluten-free finger food style dinner. ~  WATCH THE TRAILER CHOCOLATE TASTING with PANA ORGANICA hand picked cacao pod from Bolivia. A coconut from the Philippines. Cold pressed cacao butter from Peru, Indonesian coconut nectar and Mexican dark agave. Wild carob from Spain, organic cinnamon from Sri Lanka.Chocolate that's full of antioxidants, amino acids, vitamins and minerals. Chocolate without preservatives, that's vegan, gluten free, dairy free, soy free and refined sugar free. Chocolate for everyone. https://pana-organic.com LIVE MUSIC  with KYM STATON  Kym Staton has been serenading audiences in cafes, bars, pubs and other small venues as a singer/songwriter since 2012 and has performed more than three-hundred gigs at intimate venues around Sydney and Melbourne - including Bar 303, The Factory Theatre, The Newsagency, Newtown Social Club, Dome Bar, The White Horse, Broadway Lounge, Govindas Movie Room, Loop Project Space and countless other intimate venues, honing his skills and stagecraft.
  He has a unique sound both exotic and earthy, and a wide and eclectic repertoire of blues, jazz and folk covers, weird old songs and unusual originals. His rare rock tenor voice goes from subtle to soaring in a heartbeat, and the exquisite interplay of his captivating vocals and a deft touch on his  telecaster and acoustic guitar must to be heard to be believed. Check out some of Kym's music on his youtube channel: https://www.youtube.com/user/KymStatonChannel/videos Kym Staton is currently preparing to record his live cafe album later this year, which will document his past five years of intimate live performances and expansive repertoire. DINNER with SOLSTICE FOODSYour ticket includes a light but nourishing, delicious five dish, vegan, gluten-free standing-mingle finger food dinner by our caterer Solstice Foods.
Drawing inspiration from colourful, worldly street food, re-invented classics and uplifting raw delights, Solstice Foods offers an imaginative approach to catering with a focus on local ingredients and sustainable practice. They use organic, local ingredients wherever possible, and take an environmentally conscious approach to food. ~ Menu ~*Blackened Chat Potatoes with Chermoula Mayonnaise*Rice Cracker with Korean Eggplant, Kimchi Creme & Pickled Cucumber *Char Grilled Corn on the Cob with Chipotle Creme & Cheese Dust *Potato & Spinach Bhaji with Tamarind & Date Chutney*Carob, Orange & Coconut Bliss Ball  Program:5.45pm: Doors open6.00pm: Live music and chocolate tasting6.30pm: Film (60 mins duration)7.30pm: DinnerInvestment:(includes film, music, chocolate tasting and dinner.
)A portion of your ticket purchase supports the film maker. Thank you for supporting independent film making and investing in awareness building :-)Adults = $41Students/Pensioners/concession = $36Refund policy:* Please note that tickets are NOT refundable if you change your mind or are unable to make it on the day. Your tickets cannot be changed to another date. They may however be given to a friend to attend.Getting there: Please consider using sustainable transport to travel to the venue :-)Walk: The venue is ten mins walk from Seddon Train StationParking: There is ample free parking on Harris Street and Cowper St.Accessiblity: The venue is fully wheelchair accessible. Enquiries: 
[email protected]
to our Films For Change E-invites. Follow Films For Change on FB