Darwin
Australia @ (AU)
Tel 2019-02-12
Categoria Events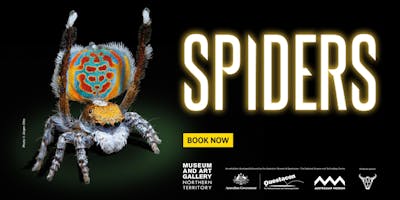 SPIDERS 15 December 2018 - 28 April 2019 Creeping into MAGNT is an exciting exhibition that will give you an eight-eyed insight into the amazing world of spiders. Opening 15 December, experience the Spiders exhibition at MAGNT featuring fascinating exhibits and interactive displays.  Come face to face with live arachnids including tarantulas, giant water spiders, deadly funnel-webs, and redbacks. Explore all aspects of a spider's life from jaws, venom and nutrition to their reproduction and growth in different habitats. Have you ever wondered how spiders see the world with multiple eyes? Do they see in colour? How does a spider make silk? And why do peacock spiders dance? Those questions and more will be answered through fully immersive interactive exhibits and talks from the Spiders Zookeeper.




You can 'hold' a virtual wolf spider in your hand or maybe you'd prefer to challenge a colourful peacock spider to a dance-off. Bravely step into the web of a net-casting spider to get your photo taken or peer inside a spider using 3D scanning technology. Ideal for all ages. Visit the MAGNT website for more information on the exhibition and Spiders Zookeeper talks.    An exhibition developed by the Australia Museum & Questacon - The National Science and Technology Centre. MAGNT is proud to be partnering with AANT for the Spiders exhibition in Darwin. TICKETS  Adult - $16 Concession - $12 *Child - $6 *(ages 5 – 15 with an accompanying adult) FAQs Q. Do I need a ticket to visit Spiders and MAGNT? A. Admission fees apply for the Spiders exhibition (Adults $16, Concession $12, Children $6).


General entry to MAGNT is free.  Q. Will tickets be available to purchase at MAGNT? A. Yes, you can purchase tickets in person at MAGNT. Q. Do I have to bring a printed ticket to MAGNT? A. No, you can collect your online tickets from the MAGNT Information Desk on arrival. Q. Are there any age restrictions to the Spiders exhibition? A. Children under the age of 15 must be accompanied by an adult. Please note that the content of the Spiders exhibition may not be suitable for all children.   Q. Can I use my ticket on a different date than originally intended? A. Tickets can be used on a different date than originally intended. To assist the Visitor Experience team in checking you in please inform them of the date of the original booking.  Q. I booked my ticket but now I can't make it, can I have a refund? A. Yes, refunds can be made up to 7 days before the date of intended use.


Q. I am an AANT member, am I eligible for a discounted ticket?  A. Yes, AANT cardholders can use the promotional code AANTSPIDERS when selecting their ticket. Please note: Discounted tickets are for AANT cardholders only.  Q. Are there Spiders public programs that I can attend? A. Yes, the Spiders Zookeeper will be presenting talks regularly throughout the exhibition. Visit the MAGNT website  for details.   Q. How do I get to MAGNT?  A. Visit the MAGNT website for information about public transport and parking, as well as directions and a map. Q. Is there a cafe and shop at MAGNT? A. Yes, MAGNT has an independently run cafe and The Store at the Museum, both open 7 days a week. Q. Is MAGNT open on public holidays? A. MAGNT is open all year round, except Christmas Day, Boxing Day, New Year's Day and Good Friday.


Q. Will there be wheelchair friendly access to the Spiders exhibition? A. Yes, MAGNT provides ramp or chairlift access to all of its galleries. Free wheelchairs are also available to those in need for the duration of their visit, we advise phoning ahead to reserve one for your visit.   Q. Can I bring a pram to the Spiders exhibition?  A. Yes, the Spiders exhibition space will be suitable for prams and young families.  Q. What facilities are provided for people with babies? A. A parents room with baby changing and feeding facilities is provided at MAGNT.