STATprep Written English Melbourne VIC
Forest Hill
Australia @ (AU)
Tel 2019-11-17
Categoria Events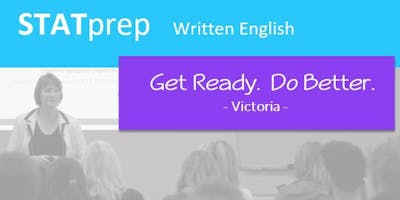 Need to sit STAT Written English?   PLEASE CHECK IF YOU NEED TO SIT STAT WRITTEN ENGLISH BEFORE ENROLMENT IN THIS COURSE. Most applicants only need to sit the 2-hour STAT Multichoice.  Some institutions (such as the University of Melbourne) may also require you to sit the 1-hour STAT Written English.  Check your course requirements.  If your course requirements simply specify "STAT", this is normally STAT Multichoice only.  If STAT Written English is also required, this will be specified.  If you are unsure, contact VTAC or the institution to check if you need to sit both STAT Multichoice and STAT Written English.  If you do not need to sit STAT Written English, yet you are keen to refresh your essay writing skills, you are most welcome to attend the workshop.
Maximise your performance on STAT Written     If you also need to sit the STAT Written english, this half-day workshop is designed as an addition to our one-day STATprep Multichoice.   It is expected you attend the one-day STATprep Multichoice before attending this event.   Attend this half-day workshop to discover: •  Time management techniques specific to STAT Written English•  Thought and content - How to generate ideas and develop arguments•  Structure and organisation - How to plan your responses so your essay flows•  Expression, style and mechanics - How to use language effectivley•  How to perform under STAT conditions•  How to avoid the most common errors STATprep covers every aspect of the STAT and includes a full-length practice test - a great way to implement and practice what has been covered.
  Tea, coffee, biscuits and fruit are provided for morning tea.   What participants say    "Fantastic day, valuable preparation that has really increased my confidence & given me great material to use for practice."   "This really provided relief from the panic I felt when I first looked at some of the example questions."   "This course was invaluable. You were very clear & explained a lot of things I would not have even thought to ask."  "This workshop is fantastic & vital for my future. I am now really excited at the possibilities. Thank you. "    About your presenter   Dianne holds STAT preparation workshops at a number of venues in Victoria and Queensland.  As Australia's most experienced STAT preparation presenter, Dianne has assisted thousands of adults gain their place at university.
  An educator with the knack of making complex things simple, Dianne has presented STAT preparation workshops for QTAC (Queensland Tertiary Admissions Centre), VTAC (Victorian Tertiary Admissions Centre), schools, colleges and universities.    FAQs   What do I need to bring to the event? Please bring pens and ruled A4 paper.   Tea, coffee, biscuits and fruit are provided for morning tea.     Can I get a refund if I no longer need to sit STAT Written English? It is your responsibility to check if you need to sit STAT Written English before your enrolment in this course.    As we plan our venue, printing and catering based on the number of bookings, our standard refund policy applies to STAT Written English.     Where can I contact the organiser with any questions?   Use the Eventbrite link below or contact me directly Email:
[email protected]
Phone: (07) 3162 6499 or 0410 666 003
Forest Hill
County of Australia @