Geelong
Australia @ (AU)
Tel 2019-06-21
Categoria Events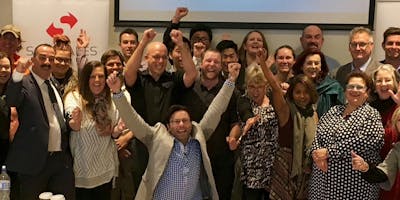 Sales can be confusing and even a little scary.  Interacting with others can me a muddle if we are unclear what drives them. This all breeds uncertainty (which is a repellent energy) and hinders progress.   It is a self-defeating cycle.But what if there was a code to Human Behaviour that allowed us to PREDICT all and then effortlessly execute?  Acting at all times with the MOST COMPELLING energy of all - CERTAINTY. There is a code - The 'Behavioural Code'.  Of that you can be CERTAIN ;-) Knowing the 'Behavioural Code' (a blending of DiSC, NLP and other powerful modalities) ensures that you understand your own Behavioural / Energetic profile and how to effortlessly and rapidly read / profile your fellow staff, loved ones(. ) and prospective buyers. Once you know this you'll then be taught how to apply "Behavioural Flexibility" to authentically and sincerely match with the behaviour / energy of your prospect to build deep and rapid rapport.




How do they like to be communicated to in order to feel: valued, respected, appreciated and known? What style of conversation are they after? Rapid and results driven? Or measured and connection focussed? You can know all of this PRIOR to saying a word and then tailor your approach accordingly.     A 'macropattern' in life is that everyone on the planet likes to feel: valued, respected, appreciated and known. This is a "no-brainer" but, the 'micro pattern' that lives within this macro pattern, is that the different "quadrants" feel these things in completely different ways. There are many tremendous immediately actionable tools that you'll take away from this training. Perhaps the greatest one is that you'll know with CERTAINTY (the king emotion in the deck) how all four quadrants (and therefore everyone whom you come into contact with) specifically likes to be treated to feel these keystones of the human experience: valued, respected, appreciate and know.


And, given that sales are made in the match and as you close the gap you close the sale, this has huge implications for personal satisfaction and especially revenue generation.