Yum Cha with Wanitha Tanasingam (Morning)
Newcastle
Australia @ (AU)
Tel 2019-06-29
Categoria Events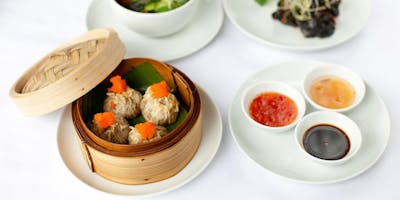 How do you feel about Yum Cha? For me, it's ALL in the name. Built in. Implicit. It's YUM. It's CHA. ( I don't exactly know what CHA is - but there's definitely some kind of dance move involved). YUM CHA. Anywhere. Anytime, Breakfast, lunch or dinner. Yum cha is so crazy versatile, at once deliciously simple yet mouth-wateringly complex. Steeped in years of Chinese tradition and brought to you on… a cart?. It's a badass way to eat, and so by osmosis it makes me pretty incredible for tracking down this amazing woman to teach you how to YUM CHA. Wanitha Tanasingam hails from Malaysia is based in Sydney and heads up cooking classes for groups of 3 to 3000. She is a pro. She is all about food. The making, the sharing of it.  Her classes are knockout, like the woman herself.




Your Menu: Steamed Scallops with Green onion and Ginger, Stuffed Eggplant with Black Bean Sauce, Jien Yim Siew Yao (Salt and Pepper Crisp Squid), Gai Lan in Oyster sauce (Chinese Broccoli), Prawn Gow Gee, Prawn and chicken wonton shooters. If you would like to redeem an Essential Ingredient Gift Card to attend this event please contact us directly and we would be happy to enrol you over the phone on (02) 4926 1991, or visit us in-store. To Do List Arrive 10 minutes prior to class as you will need to fill out a liability waiver, Wear closed toe shoes (we love your toes where they are), Pull long hair back off your face ("waiter, there's a hair in my soup"), Save the environment and bring some containers in the event of leftovers. No refunds/transfers/credits on cancellations, regardless of illness or a change in personal circumstance.


For a complete look at the Terms & Conditions of The Cooking School at The Essential Ingredient Newcastle, visit our website.